I have a lizard in my utility room and he is going to die.
No, I'm not some lizard hating exterminator – I actually care a great deal for the lizard. I've named him Fred, and talk to him as I'm doing laundry or changing the trash. He's lived under my dryer for about a week now, and his days are numbered. I don't expect him to live to see the weekend.
Subscribe: Apple Podcasts | RSS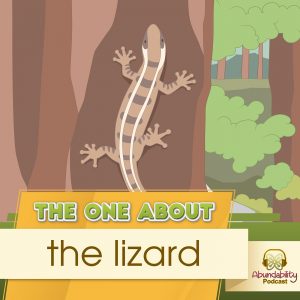 I've often rescued lizards and frogs and even snakes from my home. If I see them, I'll get a jar and scoop them up, nicely transplanting them outside to live to tell the tale of the human world, and how strange we are. But Fred is stubborn.
Upon noticing me initially last week, he crawled out of reach under the dryer, disappearing from my ability to help him. So, I did the only logical thing. You see, my utility room has a side door to the yard. I left it open for a few minutes, figuring the light and yard smells would lure him outside where he belonged.
I gave him about 10 minutes, and then closed the door. I don't want to invite those frogs and snakes in! And I went about my day. But the next morning, there was Fred, poking his little lizard eyes out from under my dryer again.
It was then that I started to talk to him. "Fred," I said, "I really want to save you, so if you'll please just come out from under the dryer, you can go and live outside, free! Here, I'll even leave the door open. But it's hot outside, so be quick." And again I left the door open for a few minutes.
I didn't see him for a few more days. I figured he had figured it out, and was alive and well, living a happy lizard life far away from me, and this thought brought me joy. Until I went to wash the bath towels and there he was again, popping his nose up from under the dryer.
"Fred! You need to leave! Now!" I shouted at him. And yes, I did literally shout at the poor creature. This time I left the door open for more than an hour. Luckily it was a beautiful day and I was able to do so. Several more days have passed, and I was sure that he had made it to safety.
But about 10 minutes ago, there he was again, underneath my dryer, looking a little skinnier than the last time I saw him. He's going to die, and there is nothing I can do about it. I've given him multiple opportunities to sprint off to safety, and I genuinely desire for him to live a happy life. But I can't force him to take those next steps. That is entirely up to him.
Be it lizards, or people, we are unable to create for others. Sometimes it feels frustrating. I can so clearly see Fred's path to safety, and I know that in a few more days he will die of dehydration and hunger. I wish I could get inside his little lizard brain and MAKE him take those steps towards freedom. But I can't.
I can't do it for him, or for my loved ones, or for my political leaders. I cannot create for anyone other than myself, even when I feel that I would do a better job than they would themselves, or that I would make choices that may even save their lives.
And this is actually a really, really good thing.
If I am unable to create for someone else, like, for instance, my daughter, who found the perfect university to attend, and then one month before school was to start decided to run off to chase a boy who was incarcerated instead – if I am unable to create for her, as much as I wanted to in that moment, then she is also unable to create for me.
She couldn't create in me, as much as she feared, that I would disapprove so much of her choices that I would excommunicate her, or not be willing to give him a chance, or put distance between us. My reaction to her choices was my decision and mine alone.
For the record, after a couple weeks of adjustment, I let go, and embraced the young man and her decision.
Most religions agree that human beings were granted free will – the ability to make our own choices and think our own thoughts. We have the right to create our own worlds and make our own futures, and no one can take that away from us – even if it's for our own good.
Our lives are meant to be our own creations, and the possibilities are limitless. We can truly be, do, have, and give anything we can imagine, even more! And sometimes, what appears to others to be a horrible choice may end up being the action that opened the door to the opportunity that changed our lives for the better.
That doesn't mean that we can't help those we love, or offer our advice, or create opportunities for them. It simply means that despite our efforts, and our well wishes, in the end, it is up to them to take advantage of that advice, or opportunity. Or not. And it would serve us best to not be attached to what they decide.
And what about those who wish to do us harm? Though others have the ability to forcibly alter our circumstances, they will never have the ability to alter our perception of our circumstances. How we choose to view what is happening around us is a choice – that's why you may see two people who have lived through the exact same situation – war, poverty, or perhaps illness – who have a completely different outlook on life. It's all a choice.
I am the one who gets to decide whether circumstances in my life are setbacks, or opportunities. No one else has the power to change that, or me.
Take comfort in knowing that letting your heart guide your efforts towards helping those you love is enough, and the rest is thankfully out of your control. How they respond is their choice. Let them have it, with love.
As for Fred, he still has a couple more days, and I'll present a couple more opportunities to him. He still has a chance. Let's hope he takes it.
Mine is a journey in progress, and I invite you to go on this journey with me with weekly short stories – just 5 to 10 minutes long – about the law of attraction in action, taken from my observations on my world. I'll show you how simple shifts in perspective can bridge the gap in your own creation process and allow you to experience everything you want in life.
And this all starts today with my free gift to you, the Daily Desires worksheet. Pick this up on my website Abundability.com/podcast.
One of the things that I have found while mentoring others through using the law of attraction to get everything they want in life is that so many of us don't give any real, focused attention, to what it is that we want in the first place!
Your Daily Desires worksheet is a place to get clear on what it is that you want, on a day by day basis, and who it is that you will be when those dreams manifest.
Print off a new Daily Desires worksheet each day. It starts with Gratitude. You want to know the fastest way to bring new desires into your life? Be grateful for what you have! Allow your whole body to feel the joy of the many, many blessings in your life.
Each morning, jot down a few things that you are grateful for. This doesn't have to be big. It can be that you're grateful for your delicious cup of coffee, or that your dog is so happy to see you when you come home from work. It can be that you're grateful for electricity, or your cell phone. It can be that you're grateful for good health, or the wonderful people in your life.
As you are writing these things down, take a moment and allow yourself to feel the feelings of joy for them. Smile. Laugh. Cry a little if it feels right.
After Gratitude, it's time to write down Today's Goals. Maybe you have a big meeting today that has the potential to score you new clients, or a promotion. Maybe today's pretty ordinary, but you're chipping away, day by day, at a large goal for your health, or wealth, or love life. Write it down. What do you want to have happen today?
And by the way, the word "today" is irrelevant. You see, the only moment that really exists is right now. We can't access the past anymore, and the future is literally imaginary.
Now, what do I mean by that? Well, let's take the year 2020 as an example. Did you make plans in 2020 that got canceled, or rescheduled? Anything from a hair appointment to major travel?
You see, we can make plans, but until the moment when our bodies catch up to those plans, they still have the ability to change; therefore, they are imaginary. Once we get to that moment in time, we do so in the present moment. So, all our desires are for the here and now, not the future.
This is why I use the term "Today's Goals" on your Daily Desires worksheet – to remind you that your goals should all be composed in the present tense.
Once those goals are written out, we form them into I AM statements. The two most powerful words in the English language are I AM. This is the way we "Ask", as The Secret taught us. We get clear on what we want, and we declare our intentions. When looking at Today's Goals, ask yourself, "who do I need to be, or who will I become once that goal is achieved?"
If your goal was to impress the boss and score that assistant manager position, your I AM statement would be "I AM an assistant manager" – that's the ask. Not, I want to be an assistant manager, keeping your dream in the imaginary future, but I AM an assistant manager, allowing it to be fulfilled in the eternal present moment.
If your goal was to chip away at your dream of creating your own business so you could eventually become financially independent, your I AM statement would be I AM financially independent.
Once written, speak your I AM statements out loud, and pause for a moment to feel in your body what it will feel like when your desire has materialized. You may find this feeling to feel a heckuva lot like gratitude. Spoiler – that's sort of the point.
When we are grateful in advance for the things we desire, they'll come to us quicker. We will go into the how's and why's of all of this on another episode, but for now, head on over to Abundability.com/podcast, and print your Daily Desires worksheet.
One last thing, if this concept of writing down your gratitude and getting clear on your desires is new to you, and you're unsure if you're willing to do it, I invite you to Eat the Pickle. Eat the Pickle is a metaphor for doing something new in life, trying something different, or taking a step outside your comfort zone. And it's with these new actions that we stop creating the same-old, same-old life that we're currently experiencing, and open the door for new possibilities.
It's like that saying about the definition of insanity being "doing the same thing over and over again, expecting a different result". So join me on this adventure. Eat the Pickle! Try out the Daily Desires. If it's not your thing, it's ok. You don't have to enjoy, or even finish eating any of the pickles in life you try. The point is simply the willingness to try new things.
Print off your worksheet, and I'll see you next time.