I spent the day in prison and it was awesome.
If you would have asked me a few years ago if I would have ever thought I'd heard myself utter that sentence, I would have thought you were crazy, and yet…
Subscribe: Apple Podcasts | RSS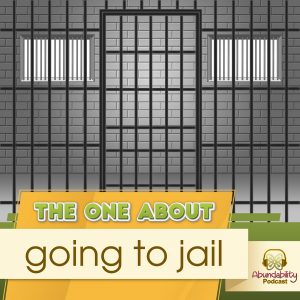 A few weeks ago, I met someone new and we did that thing where we shared about our kids. I'm a recent empty-nester, and I told her about how my son was currently traveling the world, exploring who he is and what he wants in life, and how my daughter, who just moved out on her own, made the decision to put her college plans on hold so that she could "chase a boy".
Although, as a mother, I don't love that she put a pin in her own dreams, I know that I am unable to create for her – it's her life, and she has the choice to live it how she desires. All I can do is provide her guidance along the way.
The conversation soon turned to the boy she chased. My new friend wondered what he did, and I answered honestly; he's currently serving the next 6 months in prison. She commented that she appreciated how open minded I was about this whole situation, and it got me thinking. How open minded am I? I mean, I would never hold against him the fact that he has made some mistakes – he's human after all, just like the rest of us. And if my daughter is happy, then I am happy for her. But was I honestly doing anything to honor her decisions?
We are constantly having an impact on those around us whether we consciously realize it or not. I got a bit real with myself and realized I was still hoping she'd change her mind and go to school. And as long as I was attached to that outcome, I wasn't ready to truly accept her boyfriend, prison or not. And that attachment created an impact that I didn't even realize; an invisible cloud of weight on my relationship with my daughter.
So, I made the incredible decision to assist the two of them in creating a life together, in any non-financial way that I could. So, I drove 90-minutes to the prison he is being held at and met him in person for the first time. I went by myself, without my daughter – and I have to hand it to him, he must have been terrified to meet me in this situation but did a great job.
I had only intended to stay an hour or so but ended up staying four. We played card games and talked for hours about self-responsibility, God, and philosophy. And I really enjoyed his company! He's intelligent, and has a sense of humor, and I make up that he has had a wakeup call in his situation and is ready to create a better life for himself and his family.
I've committed to him to come back at least once a month and help him add some new tools to his toolbox of life – coaching him on how to work through some challenging situations he is in, while getting clear on what he wants for his future, and how to go about getting it.
And though it isn't the future that I would have chosen for my daughter, I guess that's kinda the point – it wasn't mine to choose. And so, I will devote my energy to blessing instead.
Mine is a journey in progress, and I invite you to go on this journey with me with weekly short stories – just 5 to 10 minutes long – about the law of attraction in action, taken from my observations on my world. I'll show you how simple shifts in perspective can bridge the gap in your own creation process and allow you to experience everything you want in life.
And this all starts today with my free gift to you, the Daily Desires worksheet. Pick this up on my website Abundability.com/podcast.
One of the things that I have found while mentoring others through using the law of attraction to get everything they want in life is that so many of us don't give any real, focused attention, to what it is that we want in the first place!
Your Daily Desires worksheet is a place to get clear on what it is that you want, on a day by day basis, and who it is that you will be when those dreams manifest.
Print off a new Daily Desires worksheet each day. It starts with Gratitude. You want to know the fastest way to bring new desires into your life? Be grateful for what you have! Allow your whole body to feel the joy of the many, many blessings in your life.
Each morning, jot down a few things that you are grateful for. This doesn't have to be big. It can be that you're grateful for your delicious cup of coffee, or that your dog is so happy to see you when you come home from work. It can be that you're grateful for electricity, or your cell phone. It can be that you're grateful for good health, or the wonderful people in your life.
As you are writing these things down, take a moment and allow yourself to feel the feelings of joy for them. Smile. Laugh. Cry a little if it feels right.
After Gratitude, it's time to write down Today's Goals. Maybe you have a big meeting today that has the potential to score you new clients, or a promotion. Maybe today's pretty ordinary, but you're chipping away, day by day, at a large goal for your health, or wealth, or love life. Write it down. What do you want to have happen today?
And by the way, the word "today" is irrelevant. You see, the only moment that really exists is right now. We can't access the past anymore, and the future is literally imaginary.
Now, what do I mean by that? Well, let's take the year 2020 as an example. Did you make plans in 2020 that got canceled, or rescheduled? Anything from a hair appointment to major travel?
You see, we can make plans, but until the moment when our bodies catch up to those plans, they still have the ability to change; therefore, they are imaginary. Once we get to that moment in time, we do so in the present moment. So, all our desires are for the here and now, not the future.
This is why I use the term "Today's Goals" on your Daily Desires worksheet – to remind you that your goals should all be composed in the present tense.
Once those goals are written out, we form them into I AM statements. The two most powerful words in the English language are I AM. This is the way we "Ask", as The Secret taught us. We get clear on what we want, and we declare our intentions. When looking at Today's Goals, ask yourself, "who do I need to be, or who will I become once that goal is achieved?"
If your goal was to impress the boss and score that assistant manager position, your I AM statement would be "I AM an assistant manager" – that's the ask. Not, I want to be an assistant manager, keeping your dream in the imaginary future, but I AM an assistant manager, allowing it to be fulfilled in the eternal present moment.
If your goal was to chip away at your dream of creating your own business so you could eventually become financially independent, your I AM statement would be I AM financially independent.
Once written, speak your I AM statements out loud, and pause for a moment to feel in your body what it will feel like when your desire has materialized. You may find this feeling to feel a heckuva lot like gratitude. Spoiler – that's sort of the point.
When we are grateful in advance for the things we desire, they'll come to us quicker. We will go into the how's and why's of all of this on another episode, but for now, head on over to Abundability.com/podcast, and print your Daily Desires worksheet.
One last thing, if this concept of writing down your gratitude and getting clear on your desires is new to you, and you're unsure if you're willing to do it, I invite you to Eat the Pickle. Eat the Pickle is a metaphor for doing something new in life, trying something different, or taking a step outside your comfort zone. And it's with these new actions that we stop creating the same-old, same-old life that we're currently experiencing, and open the door for new possibilities.
It's like that saying about the definition of insanity being "doing the same thing over and over again, expecting a different result". So join me on this adventure. Eat the Pickle! Try out the Daily Desires. If it's not your thing, it's ok. You don't have to enjoy, or even finish eating any of the pickles in life you try. The point is simply the willingness to try new things.
Print off your worksheet, and I'll see you next time.