Many people will tell you that forgiveness is a key component to happiness and finding peace within ourselves, and I want to challenge the semantics of forgiveness for just a moment.
Subscribe: Apple Podcasts | RSS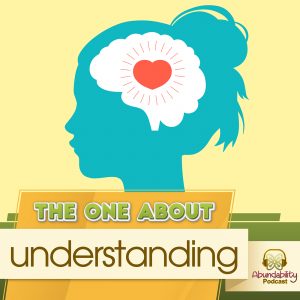 You see, to forgive someone is different from understanding them. To me, when we forgive someone, we have power over them – we are bestowing upon them this gracious act and absolving them– which sort of puts us in a position of higher power than them. I firmly believe that we are all one – all parts of the same whole. Instead of forgiving others, let's strive for understanding – which is a feeling of compassion for the why behind the actions other people choose.
It is not saying that those actions are OK or dismissing punishment; it is simply understanding.
Now, this is all semantics – if you feel more comfortable forgiving than understanding, go with it. If something is working for you, by all means, keep doing it. But I invite you to keep an open mind.
Picture the following – and do close your eyes if you're able to do so. Picture this.
You're driving in your car, and you're stuck in the middle of a traffic jam.
You're running late to an appointment and couldn't be having a more stressful morning.
Suddenly, the car in front of you finally starts to move, and then a guy in the car to your left swoops in front of you, cutting you off.
You slam on your brakes to avoid hitting him, but he's off. Pulling his crazy maneuvers on the next car in front of you, and the next, until he is out of sight.
How are you feeling about this guy right now? What a jerk, right?
I mean, you all have places to be. You yourself are running late today, and this guy has the audacity to just go charging through life – totally inconsiderate.
Grrrrrrr
Stay with me here. Keep your eyes closed a moment longer.
Now, what if I told you, that the man who cut you off in traffic had just gotten a phone call that his wife had been in an accident, that she was in the hospital, and that they didn't expect her to live much longer…
Is he a jerk now? Do you feel compassion, and understanding coursing through your veins as you feel this man's grief?
Do you notice that you don't have to forgive his behavior – that the simple act of understanding the reason behind it made your feelings of annoyance melt away?
Let that compassion linger for just a moment.
Now, and this is important, the truth is, we don't know if the man cutting you off in traffic is an inconsiderate jerk, or if he just received devastating news and is doing his best to reach a dying loved one.
And it doesn't matter.
You can open your eyes again.
Everyone you meet in life is living their own experience. Behind each face you encounter is a lifetime of stories that you will never understand. And each person is doing the very best that they can with the tools that they have.
When I was in high school, I was involved in a number of extracurricular activities. Two of them that took up most of my time were cheerleading and being on a drama competition team.
Sometimes creative scheduling had to happen to make sure that I was able to perform in a drama competition one Saturday morning, and then to make it to a basketball game that same Saturday night.
I had a partner for the drama competition. Together, we had rehearsed a small dramatic scene that we reenacted at each of our competitions, and we'd be ranked in each round for our performance compared to other teams. It was not possible to do the scene with just one person – it was, by definition, a duo performance.
Towards the end of the season, our drama coach approached me, with my partner in tow, asking me if it was true that I had decided to pull out of drama because cheerleading was taking up too much of my time. I was shocked. Not only had I never said such a thing, truth be told, I enjoyed drama much more than cheerleading, and would never imagine giving it up!
So, I said, No, there must be some misunderstanding. I have no problems with the schedule at all. I am happy to continue with both cheerleading and drama.
And as I said this, my drama partner piped up, sneering "No – you told me you'd have to quit last week! You said you were done!"
For a moment, I was completely confused. I searched my brain trying to find some conversation we'd recently had that could have been misunderstood – but I could find nothing – no discussion at all about schedules, or cheerleading, or quitting. I was dumbfounded.
It turned out my partner had wanted to quit the team. Within a week, we had replaced her with another drama member who learned her lines, and I finished out both cheerleading AND drama competition that year, as planned. I even won some trophies.
But for my former partner who lied to our teacher, I never felt angry with her. I can distinctly remember being in that moment, listening to her make this whole scenario up, and finally coming to my own understanding of why she was making it up.
I make up that she was doing it so that she didn't feel like she was the cause of breaking up the act – that she didn't want the shame or blame she felt might accompany it.
And it was in that moment that I realized that she was doing the very best she could with the tools that she had. She came from a very difficult home-life, and I make up in my head about her that she probably learned to lie and transfer blame there.
She probably experienced a lot of blame, and shame, at home, and had developed a unique set of survival skills that transferred over to all parts of her life. She simply didn't know another way to handle her problem.
Understanding this – that everyone is doing their best, but that they might not have the same tools for moving through life that others do – can make it much easier to just let go of minor – and sometimes major – irritations in life.
The child who was running and knocked over the vase – he doesn't know that looking ahead of where he was running could have prevented the accident
That woman gossiping behind their back – she doesn't know that there are better tools to deal with her hurt feelings.
The boyfriend who ghosted instead of breaking up face to face – he doesn't realize that open communication would have solved his fear of confrontation.
The man that drowns his sorrows in a bottle of whiskey – doesn't understand that there are other ways to deal with his problems
They are all doing the best that they can with the tools that they have. And even when it seems that they SHOULD know better or they SHOULD make better decisions…it's important to UNDERSTAND that even though these things may seem obvious to us, their toolbox does not contain them yet.
There is no need to forgive them, which puts us in a superior position. There is no need to condone their actions – the actions of a mentally ill person who hurts another person do not need to be glorified or made "OK". It's simply an understanding on why they could do the things that they did.
Understanding is a choice. It's a heart desire to achieve closure. Understanding releases the attachment we have to a negative situation. We can put it behind us, and move on, taking back the energy that we've devoted to this drama, and refocusing it towards something more positive and more helpful in our lives.
And as much as we want to, just like we cannot manifest greatness in someone else's life, we also are unable to change them, or chose the way they view the world.
All we can do is set an example by doing the best that we can with the tools that we have.
Mine is a journey in progress, and I invite you to go on this journey with me with weekly short stories – just 5 to 10 minutes long – about the law of attraction in action, taken from my observations on my world. I'll show you how simple shifts in perspective can bridge the gap in your own creation process and allow you to experience everything you want in life.
And this all starts today with my free gift to you, the Daily Desires worksheet. Pick this up on my website Abundability.com/podcast.
One of the things that I have found while mentoring others through using the law of attraction to get everything they want in life is that so many of us don't give any real, focused attention, to what it is that we want in the first place!
Your Daily Desires worksheet is a place to get clear on what it is that you want, on a day by day basis, and who it is that you will be when those dreams manifest.
Print off a new Daily Desires worksheet each day. It starts with Gratitude. You want to know the fastest way to bring new desires into your life? Be grateful for what you have! Allow your whole body to feel the joy of the many, many blessings in your life.
Each morning, jot down a few things that you are grateful for. This doesn't have to be big. It can be that you're grateful for your delicious cup of coffee, or that your dog is so happy to see you when you come home from work. It can be that you're grateful for electricity, or your cell phone. It can be that you're grateful for good health, or the wonderful people in your life.
As you are writing these things down, take a moment and allow yourself to feel the feelings of joy for them. Smile. Laugh. Cry a little if it feels right.
After Gratitude, it's time to write down Today's Goals. Maybe you have a big meeting today that has the potential to score you new clients, or a promotion. Maybe today's pretty ordinary, but you're chipping away, day by day, at a large goal for your health, or wealth, or love life. Write it down. What do you want to have happen today?
And by the way, the word "today" is irrelevant. You see, the only moment that really exists is right now. We can't access the past anymore, and the future is literally imaginary.
Now, what do I mean by that? Well, let's take the year 2020 as an example. Did you make plans in 2020 that got canceled, or rescheduled? Anything from a hair appointment to major travel?
You see, we can make plans, but until the moment when our bodies catch up to those plans, they still have the ability to change; therefore, they are imaginary. Once we get to that moment in time, we do so in the present moment. So, all our desires are for the here and now, not the future.
This is why I use the term "Today's Goals" on your Daily Desires worksheet – to remind you that your goals should all be composed in the present tense.
Once those goals are written out, we form them into I AM statements. The two most powerful words in the English language are I AM. This is the way we "Ask", as The Secret taught us. We get clear on what we want, and we declare our intentions. When looking at Today's Goals, ask yourself, "who do I need to be, or who will I become once that goal is achieved?"
If your goal was to impress the boss and score that assistant manager position, your I AM statement would be "I AM an assistant manager" – that's the ask. Not, I want to be an assistant manager, keeping your dream in the imaginary future, but I AM an assistant manager, allowing it to be fulfilled in the eternal present moment.
If your goal was to chip away at your dream of creating your own business so you could eventually become financially independent, your I AM statement would be I AM financially independent.
Once written, speak your I AM statements out loud, and pause for a moment to feel in your body what it will feel like when your desire has materialized. You may find this feeling to feel a heckuva lot like gratitude. Spoiler – that's sort of the point.
When we are grateful in advance for the things we desire, they'll come to us quicker. We will go into the how's and why's of all of this on another episode, but for now, head on over to Abundability.com/podcast, and print your Daily Desires worksheet.
One last thing, if this concept of writing down your gratitude and getting clear on your desires is new to you, and you're unsure if you're willing to do it, I invite you to Eat the Pickle. Eat the Pickle is a metaphor for doing something new in life, trying something different, or taking a step outside your comfort zone. And it's with these new actions that we stop creating the same-old, same-old life that we're currently experiencing, and open the door for new possibilities.
It's like that saying about the definition of insanity being "doing the same thing over and over again, expecting a different result". So join me on this adventure. Eat the Pickle! Try out the Daily Desires. If it's not your thing, it's ok. You don't have to enjoy, or even finish eating any of the pickles in life you try. The point is simply the willingness to try new things.
Print off your worksheet, and I'll see you next time.