My boyfriend is the love of my life, but he often thinks of things very differently from me, with a perspective that is partially his Japanese upbringing, and mostly his unique personality. I love debating – and yes, it is debating, we really don't argue – with him about all sorts of ordinary life experiences, and their meaning.
Subscribe: Apple Podcasts | RSS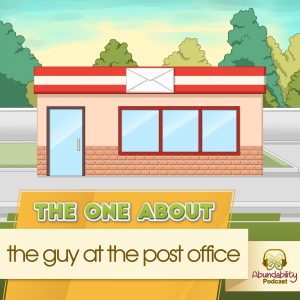 Recently, he told me that whenever he needs to make a big decision, he likes to think of the worst possible outcome of that decision, and if he is satisfied that he could live with it, he goes ahead and makes the decision.
That way, with no expectations of a perfect outcome, everything that happens is good. He refers to it as optimistic pessimism. While I don't necessarily agree with his title, I love the concept – with a little bit of positive polishing.
Just like being happy doesn't mean that you have to paste a fake smile on your face as your leg is being amputated, thinking positive doesn't mean that you only see rainbows and unicorns. By being satisfied with the worst-case scenario, my boyfriend takes joy in the inevitable beauty that happens.
And let me be clear here – he is not creating a negative outcome, and you may be wondering how that is possible – after all thoughts become things, right? If we think about something, aren't we calling it forth into existence?
Not all thoughts are strong enough to be called into reality. We have hundreds of thousands of thoughts each day, most of them fleeting. It's when we draw a thought down from our heads and give it meaning and emotion and dwell on it – whether a wanted outcome or an unwanted one – that it starts the manifestation process.
When my boyfriend considers the rock-bottom "what-if's" – he's not dwelling on the thought. He is giving it no emotion and adding no attachment to it. He's simply trying it on to see how it would fit. And if it is something he could live with, wonderful. He's not asking for the outcome – he's simply accepting that it is a possibility, depending on his other conflicting desires in progress.
And then he lets the thought go.
I tried this out the day after our conversation at the post office. I don't know what your post office is like, but in my neck of the woods, if you go to the post office, you expect it to be a wait. So, I was maybe 10-th in a very slow-moving line, with two windows open and two attendants working hard.
Behind me was a man in a business suit, and behind him, a woman in scrubs. The man was "hu-hupfing" every 30 seconds or so, clearly agitated by the long line.
At one point, a woman in front of me got fed up with waiting, so exited the line. The woman in scrubs behind me gave a quiet little cheer as we moved up one place in line.
I looked at the woman in scrubs, over the head of the agitated businessman, and smiled.
I said to her, "You know, every time I come to the post office, it's always a 20-minute wait. It doesn't matter what day of the week or time of day. I expect it. But the attendants are always working so hard and are so friendly that when I do get up to them, it's a joy. And, if I'm lucky enough to get through the line in under 20 minutes, I consider that an extra bonus to my day."
She smiled back, and agreed, and then a strange thing happened.
The man stopped hu—humpfing.
He had done it like clockwork every 30 seconds for the first 10 minutes of our wait but stopped and was visibly more relaxed for the remaining 10 minutes.
Change your perception, change your reality. We all had to stand in that line to get our business taken care of, but how we stood in that line, and if it was a good, or a bad experience, was up to us.
A positive outlook is like a muscle you can train, the more you do it the easier it gets. And when we clean up our thoughts and work on how we see our world, it has a ripple effect in all areas of life including our relationships, our businesses, or careers, and even our health.
So how do we retrain our brains to think positively? First, it's important to understand that awareness is 90% of the battle.
Look back right now on a recent negative experience in your life. It could be that you woke up late yesterday morning, forgot your coffee on the counter on your way out the door, got stuck behind the train – again – on the way to work, almost showed up late, and just ended up having a horrible day.
Now, take yourself back through that same experience, and look at those same events with a new perspective. So, you woke up late. Wasn't it great that your body got a little more sleep, and you still managed to make it to work on time?
You left your coffee behind at the house – but then stopped by your favorite barista and treated yourself to a fun fru-fru drink.
You got stuck behind the train – but then your favorite song came on the radio and you were able to really get into it, belting it out at the top of your lungs and doing a little car-dance that you couldn't achieve while driving.
And despite all these setbacks, you STILL managed to get to work on time! What an incredible morning that you manifested!
Nothing changed. Only perspective. And now, you have added awareness to the situation.
Understand that observing something, even if that thing you are observing is negative, is not calling it forth into reality if you do not dwell on it. We're not after a Pollyanna existence here.
But there is a big difference between saying something like, "there are people in this world that do not have access to clean water" and saying "all of us in 1stt world countries are horrible people for not allowing everyone on earth access to clean water."
When we observe something negative, with a positive perspective, it inspires us to make positive changes. When we observe something negative with a negative perspective, it makes us feel guilty, unhappy, and powerless to do anything about it.
When negative observations happen, the key is to either not dwell on them, or, take action to make a change.
And here's the really interesting thing – when each of us as individual members of a society, choose to manifest positive solutions to negative circumstances around us, society as a whole begins to change.
Just like my grumpy businessman in the post office found out, positivity is contagious.
Mine is a journey in progress, and I invite you to go on this journey with me with weekly short stories – just 5 to 10 minutes long – about the law of attraction in action, taken from my observations on my world. I'll show you how simple shifts in perspective can bridge the gap in your own creation process and allow you to experience everything you want in life.
And this all starts today with my free gift to you, the Daily Desires worksheet. Pick this up on my website Abundability.com/podcast.
One of the things that I have found while mentoring others through using the law of attraction to get everything they want in life is that so many of us don't give any real, focused attention, to what it is that we want in the first place!
Your Daily Desires worksheet is a place to get clear on what it is that you want, on a day by day basis, and who it is that you will be when those dreams manifest.
Print off a new Daily Desires worksheet each day. It starts with Gratitude. You want to know the fastest way to bring new desires into your life? Be grateful for what you have! Allow your whole body to feel the joy of the many, many blessings in your life.
Each morning, jot down a few things that you are grateful for. This doesn't have to be big. It can be that you're grateful for your delicious cup of coffee, or that your dog is so happy to see you when you come home from work. It can be that you're grateful for electricity, or your cell phone. It can be that you're grateful for good health, or the wonderful people in your life.
As you are writing these things down, take a moment and allow yourself to feel the feelings of joy for them. Smile. Laugh. Cry a little if it feels right.
After Gratitude, it's time to write down Today's Goals. Maybe you have a big meeting today that has the potential to score you new clients, or a promotion. Maybe today's pretty ordinary, but you're chipping away, day by day, at a large goal for your health, or wealth, or love life. Write it down. What do you want to have happen today?
And by the way, the word "today" is irrelevant. You see, the only moment that really exists is right now. We can't access the past anymore, and the future is literally imaginary.
Now, what do I mean by that? Well, let's take the year 2020 as an example. Did you make plans in 2020 that got canceled, or rescheduled? Anything from a hair appointment to major travel?
You see, we can make plans, but until the moment when our bodies catch up to those plans, they still have the ability to change; therefore, they are imaginary. Once we get to that moment in time, we do so in the present moment. So, all our desires are for the here and now, not the future.
This is why I use the term "Today's Goals" on your Daily Desires worksheet – to remind you that your goals should all be composed in the present tense.
Once those goals are written out, we form them into I AM statements. The two most powerful words in the English language are I AM. This is the way we "Ask", as The Secret taught us. We get clear on what we want, and we declare our intentions. When looking at Today's Goals, ask yourself, "who do I need to be, or who will I become once that goal is achieved?"
If your goal was to impress the boss and score that assistant manager position, your I AM statement would be "I AM an assistant manager" – that's the ask. Not, I want to be an assistant manager, keeping your dream in the imaginary future, but I AM an assistant manager, allowing it to be fulfilled in the eternal present moment.
If your goal was to chip away at your dream of creating your own business so you could eventually become financially independent, your I AM statement would be I AM financially independent.
Once written, speak your I AM statements out loud, and pause for a moment to feel in your body what it will feel like when your desire has materialized. You may find this feeling to feel a heckuva lot like gratitude. Spoiler – that's sort of the point.
When we are grateful in advance for the things we desire, they'll come to us quicker. We will go into the how's and why's of all of this on another episode, but for now, head on over to Abundability.com/podcast, and print your Daily Desires worksheet.
One last thing, if this concept of writing down your gratitude and getting clear on your desires is new to you, and you're unsure if you're willing to do it, I invite you to Eat the Pickle. Eat the Pickle is a metaphor for doing something new in life, trying something different, or taking a step outside your comfort zone. And it's with these new actions that we stop creating the same-old, same-old life that we're currently experiencing, and open the door for new possibilities.
It's like that saying about the definition of insanity being "doing the same thing over and over again, expecting a different result". So join me on this adventure. Eat the Pickle! Try out the Daily Desires. If it's not your thing, it's ok. You don't have to enjoy, or even finish eating any of the pickles in life you try. The point is simply the willingness to try new things.
Print off your worksheet, and I'll see you next time.